* Our Prices are subject to change at any time.
* 50% deposit required on all shoulder mounts.
* Delivery dates are approximate.
* Due to the tremendous number of game on the African Continent we do not list all of them. If you don't see your trophy listed just Contact Us for a quote.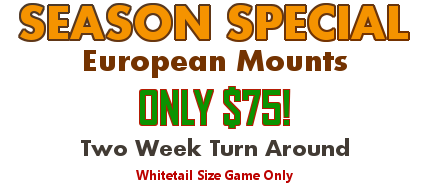 [NORTH AMERICAN & EXOTICS]
Name
Shoulder Mount
Life Size
4 Horn Sheep
$550.00
$2260.00
Addax
$695.00
$2560.00
Alligator
$460.00
$355.00
Linear Foot
Aoudad
$585.00
$2460.00
Axis
$600.00
$2560.00
Bison
$1290.00
$6760.00
Black Bear
$575.00
$3260.00
Black Buck
$515.00
$1860.00
Boar
$670.00
$2260.00
Bobcat
$460.00
$710.00
Brown Bear
$685.00
$5060.00
Caribou
$770.00
3460.00
Corsican
$525.00
$2260.00
Cougar
$525.00
$2460.00
Coyote
$485.00
$860.00
Debowski Sika
$685.00
$3060.00
Elk
$935.00
$4260.00
Fallow Deer
$545.00
$2460.00
Fox
$460.00
$710.00
Goat
$560.00
$2460.00
Grizzly Bear
$685.00
$5060.00
Ibex
$600.00
$2560.00
Moose
$1360.00
$6060.00
Mouflon
$525.00
$2260.00
Mule Deer
$545.00
$2560.00
Peccary
$545.00
$1060.00
Pronghorn
$525.00
$2060.00
Red Sheep
$525.00
$2260.00
Red Stag
$860.00
$3860.00
Scimintar Oryx
$860.00
$3060.00
Sika Deer
$525.00
$2260.00
Texas Dall
$525.00
$2260.00
White Tail Deer
$525.00
$2260.00
[AFRICAN]
| Name | Shoulder Mount | Life Size |
| --- | --- | --- |
| Baboon | $660.00 | $2560.00 |
| Blesbok | $610.00 | $2560.00 |
| Bontebok | $610.00 | $2560.00 |
| Bush Duiker | $540.00 | $1860.00 |
| Bush Pig | $760.00 | $2460.00 |
| Bushbuck | $585.00 | $2360.00 |
| Cape Buffalo | $1560.00 | $7460.00 |
| Caracal | $540.00 | $960.00 |
| Common Reedbuck | $660.00 | $2560.00 |
| Eland | $1360.00 | $6560.00 |
| Genet Cat | N/A | $575.00 |
| Giraffe | $5060.00 | Call For Quote |
| Grants Gazell | $660.00 | $2460.00 |
| Greater Kudu | $1060.00 | $3660.00 |
| Hartebeast | $760.00 | $3060.00 |
| Hyena | $860.00 | $2060.00 |
| Impala | $595.00 | $2560.00 |
| Jackal | $540.00 | $910.00 |
| Klipspringer | $560.00 | $1560.00 |
| Lechwe | $760.00 | $3060.00 |
| Leopard | $840.00 | $3860.00 |
| Lesser Kudu | $910.00 | $3060.00 |
| Lion | $1010.00 | $5260.00 |
| Mountain Reedbuck | $860.00 | $3060.00 |
| Nyala | $760.00 | $3560.00 |
| Oryx (Gemsbok) | $910.00 | $3860.00 |
| Springbok | $575.00 | $2260.00 |
| Tessebe | $760.00 | $3060.00 |
| Thompson Gazell | $860.00 | $3060.00 |
| Warthog | $785.00 | $3060.00 |
| Waterbuck | $985.00 | $4860.00 |
| Wildebeast (Black & Blue) | $910.00 | $4260.00 |
| Zebra | $1085.00 | $5060.00 |
[HORN MOUNTS AND EUROPEANS]
Name
Horn
Euro
Axis
$235.00
$160.00
W/O Wood Plaque
Bears and Boars
N/A
$285.00
Pronghorn
$235.00
$160.00
Whitetail Size Game
$135.00
$135.00
W/O Wood Plaque
Elk Size Game
$260.00
$210.00
W/O Wood Plaque
Sheep
N/A
$310.00
[RUGS AND TANNING]
Name
Price
Alligator
$380.00
Linear Foot
Bobcats and Fox Size
Game Rug
$560.00
Coyote Rug
$610.00
Wolf Rug
$710.00
Snake Rug
$310.00
Whitetail Size Flat Tan
$210.00
Elk Flat Tan
$18.00
SQ Foot
Bobcats and Fox Size
Game Flat Tan
$260
Zebra Rug
$1560.00