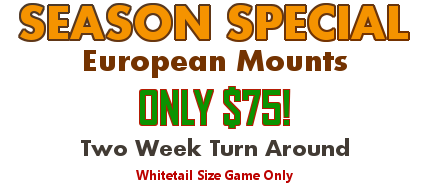 Taxidermy Designs is a small Family owned and operated business in Tomball, Texas. We take pride in our work and welcome all customers and clients. High quality mannikins, facial detail, muscle tone and natural positioning comes standard on all of our mounts at very competitive pricing! We have experience with game from all over the world and continue the study of live and photographic reference of wild game in order to keep our mounts looking as natural as possible. Please feel free to contact us for more information on our services, questions or concerns.
"The act of mounting or reproducing dead animals for display (e.g. as hunting trophies) or for other sources of study."
Walk-ins are welcome to come visit our taxidermy studio and show room or if you prefer just give us a call. All of our contact info and a map to our location is in the Contact Us section of our website. Don't forget to check our Portfolio section regularly as we will keep our photo galleries updated with new projects that we work on.
Showroom